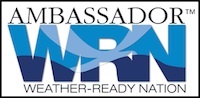 Skywarn is a program of the United States' National Weather Service (NWS). Its mission is to collect reports of localized severe weather. These reports are used to aid forecasters / public safety in issuing and verifying severe weather watches and warnings and to improve the forecasting and warning processes and the tools used to collect meteorological data. It consists of a network of severe storm spotters that observe weather conditions and make reports of severe weather to their local NWS offices. Spotters are required to be trained by personnel from the National Weather Service certified trainers every other year.
Central Minnesota Skywarn
The Saint Cloud Amateur Radio Club is the host of the Central Minnesota Skywarn program under the Director Of Emergency Communications. Central Minnesota Skywarn currently serves Stearns County via the SCARC Emergency Services Repeater, and Benton County via the Benton County Emergency Services Repeater.
Lee Denny – K9MP, Director of Emergency Communications
Rick Collins – KU5MC, Assistant Director of Emergency Communications
Please Contact Us Here for more information.
3 Day Weather Outlook
Day 1 Outlook




Day 2 Outlook




Day 3 Outlook




Current Weather Radar